Oral Presentation
Length of Presentation
Oral Presentation
Presentation: 12minutes, Discussion: 3minutes
Total: 15minutes
Keynote Presentation
Presentation: 20minutes, Discussion: 5minutes
Total: 25minutes
Plenary Presentation
Presentation: 30minutes, Discussion: 5minutes
Total: 35minutes
Special Presentation
Presentation: 40minutes, Discussion: 5minutes
Total: 45minutes
Equipment
Computers
Windows: OS: Windows 7
PowerPoint ver.: 2013/2010/2007/2003
Speaker Preparation
Operation corner is located within the conference room, F201 and F202.
All speakers are requested to bring the presentation materials to the operation corner in your presentation room by the end of the break time before the applicable sessions.
PowerPoint Presenters
Bring your presentation on a Windows readable USB flash Drive or CD-ROM. In case you use movie file(s), you should bring your own laptop.
Make sure that you close or "finalize" your presentation file when creating a CD. If you omit this step, you cannot access the CD from any other computer.
Only the standard fonts (e.g., Times Roman, Helvetica, Arial, Times New Roman) are accepted for your presentation file, and usual fonts may not be displayed properly on the computers in session rooms.
Include any external files utilized e.g. movie files in the same folder as your presentation. Copy the entire folder to the USB flash Drive or CD-ROM.
Video clips (other than certain animated gif files) are not embedded in PowerPoint presentations; you will need to bring the separate video files (WMV type is recommended with you and submit them along with your presentation file.
Please name the file as: Your program number + your name.ppt (e.g., P1-1_John Smith.ppt(x)).
In order to avoid virus infection, please scan your data with updated anti-virus software beforehand.
Users of Mac Computers:
You should bring your own Mac.
Laptops (Windows and Mac)
Speakers using their own laptops MUST HAVE a VGA D-sub 15pin female output. Special video output cable is required for almost all Mac and some laptops to use the D-sub 15pin to connect to external monitors and data projectors. Please note that we are not equipped with the special cable and you must bring it in case it is necessary. The laptop output resolution should be XGA (1024 x 768). The higher resolutions than the native resolution (1024 x 768) would possibly lose some information or not project by forcing the data projector into a compression mode.
Please name the file as: "Your program number + your name" and save it to the desktop or create a shortcut on the desktop.
You should have your data backed up in case of computer trouble.
Please turn off the screen-saver or energy saving mode beforehand.
Poster session
Poster size and display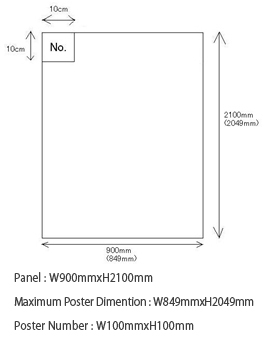 Posters should be brought to the congress and not mailed, as the Organizing Committee cannot be held responsible for any loss or mishandling.
Please refer to the poster image on the right for your poster presentation
Please be sure to present a label showing the title, institution and the speaker's name.
Pins for mounting will be available at the venue.
Panel:W900mmxH2100mm, Maximum Poster Dimention:W849mmxH2049mm, Poster Number:W100mmxH100mm
Poster Mounting Schedule
Presenters are requested to follow the schedule below in mounting their poster on their assigned board. Your poster program number will be posted on your assigned board.
Set-up Time: Monday, September 9, 2013 08:00-14:00

Removal Time: Friday, September 13, 2013 17:00-18:30
Discussion Schedule
| | | |
| --- | --- | --- |
| Monday, September 9, 2013: | | 18:00-20:00 (Sessions 1, 2, 3, and 4) |
| Tuesday, September 10, 2013: | | 18:30-20:00 (Sessions 6 and 7) |
| Thursday, September 12, 2013: | | 16:55-18:40 (Sessions 8, 9, and 10) |
Discussion will be held in two parts. First half will be for the presenters with ODD program numbers. Second half will be for the presenters with EVEN program numbers.
Chairpersons
All chairpersons are asked to be in their session room no later than 15miutes prior to the beginning of the session.
Chairpersons should make every effort to maintain the time schedule in cooperation with the time keeper, and give warnings, if needed, to the speakers.